I started writing a blog, not because I intended to make friends or find a community. It was simply to write and document and share my thoughts on life and whatnot. It started to surprise me when random people who I hardly knew would share with me that they read my blog. Then, other people started finding me. People who I didn't even know. People who live on the other side of the country. Sharing life with
me.
Now, my favorite part of blogging is the friends I have made. Kindred spirits who read about my triumphs and my dirt and share an, "amen!" and a "with you sister" to spur me on. Writers who have become friends. Who share their own hearts that I so identify with and are a tremendous encouragement in my life.
Aly
is one of those people.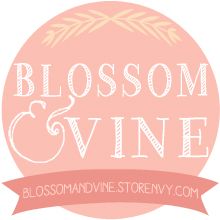 I've highlighted
her shop
over here
before
, and I'm going to do it again, because if you haven't taken the time to check out this gal's talent in getting God's word on your walls,
you should
.
Aly has a sweet shop called
Blossom and Vine
, where she writes scripture and faith quotes creatively for the walls of homes. She has done some re-designing and her
new prints
are available starting
TODAY at her shop re-launch!
This dear friend sent me a few as a preview.
Aren't they gorgeous? And so needed for my walls.
I love the idea of having this kind of encouragement and prayers displayed where I can soak it up every day. I need more of this.


Aly is giving 30% off to the first ten orders she receives today, so you should rush on over to her sweet
shop
to take a look to see what fits in your home. And stop by her
blog
also, because she's running fantastic deals all week to celebrate this re-launch. And because this girl shares her heart so well and is such a great encouragement to me to continue to do the same.
And this week only, my readers get to use the promo code of
JOY15
to get 15% off your order! If you do get some prints, I'd love to see them on your walls!! Instagram or comment with your prints!
Thanks Aly!